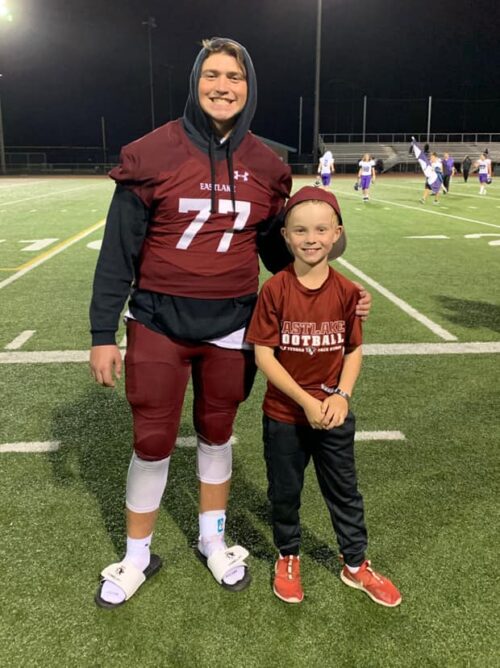 Being a mentor has been an amazing experience for me. Getting closer with my buddy over the past 2 almost 3 years we've been together has been something truly special and being able to watch his growth and our relationship get stronger as well as watching him and his friends get stronger. All of the games of wiffle ball and croquet and racing hot wheels were some of my favorite memories with him! I can't wait to continue our relationship and see his growth continue! 
When we first signed up for Athletes for Kids, we were looking for a positive role model that would help increase our son's self-confidence and positivity in how he tackled schoolwork, life, and friendships.  We seriously could not have found a more caring, compassionate, quietly-confident person than Jake O'Donnell. He is the nicest person we have ever met!
Jake and our son have logged hours and hours playing Wiffle ball, tossing the football, playing board games, or just goofing around. Jake was always listening to our son and set a great example through finding positivity in any situation. Through his quiet, thoughtful conversations with our son, he quickly turned around any hurt feelings or misunderstandings. We have seen our son mirroring his reactions and kindness while playing with his brother or other neighborhood kids. He looks up to Jake - his favorite sport to play is now football. . . he loves to eat hashbrowns (like Jake ate at Sammamish Café) which he would not even try before Jake ate them. . . and he approaches new situations and learning with a quiet confidence that is similar to Jake's.
We cannot sing Jake's praises more highly. We are forever grateful that he volunteered to form this bond with our son He has made an impact on our son (and family) for the rest of his life that we will never forget. Thank you for being a positive light in our lives