Our Annual Dinner Auction, "Beneath the Same Sky" will be held at the Embassy Suites in Bellevue on October 19th, 2017.
Do have a unique item that you are able to donate to our 501 (c)(3) organization? We are always looking for items to include in our silent and live auction, no item is too small! Our auction team is experienced at putting together wonderful packages that attract interest.
Perhaps you have a vacation property and could donate a weekend?
We love tickets to events of all kinds – with so many local sporting events and theater performances in our area, perhaps you would be willing donate a pair to our auction?
If you are a business owner we greatly appreciate donations
Auction Donations Needed of goods and/or services to help make this fundraiser a success!
We would also greatly appreciate any gift cards and airline mileage points that you would consider donating! The sky is the limit.
If you have any questions or would like more information on ways to join in our program, please email us at contactafk@athletesforkids.org or call our office at 425-369-2142.
---
Thank You Fairway Mortgage!
We'd like to express heartfelt appreciation to everyone at Fairway Mortgage Kirkland
for selecting us as their charity of the quarter! Thank you for your generous support.
---
Home Depot Build-it Event!
Athletes for Kids mentors and buddies enjoyed
building toolboxes at Home Depot in Redmond on Sunday, June 11.
---
Mentor Celebration Dinner
Our Mentor Celebration Dinner on May 21 was a beautiful celebration of the mentorships AFK provides.
More than 260 mentors, buddies, families, and community members came out to celebrate our
graduating senior mentors and their commitment to their buddies.
See all the photos on Facebook here!
---
We are thrilled to announce that AFK will be opening its 10th mentor chapter with athletes from
Bellevue High School. This is an exciting opportunity for Bellevue children with
special needs, high school students, and the entire community.
Please apply now to become a mentor, buddy, or financial supporter!
---
 AFK Carnival
Athletes for Kids mentors, buddies, siblings and community youth enjoyed
an inclusive community event at the AFK Indoor Carnival on March 11, 2017.
---
AFK featured on KING 5 News!
We are grateful to Ryan Takeo and KING 5 News for bringing awareness to our impactful mentoring program. We were featured twice in one week! The first video features Skyline mentor, Ben Wolters and his buddy Brayden.
The second video was from the first annual Athletes for Kids and Skyline Football Camp. Over 50 children were in attendance and had the times of their lives. Thank you to Mat Taylor and the entire Skyline Football program for making this event possible.
September 26, 2016
October 1, 2016
---
First Annual Athletes for Kids and Skyline Football Camp
 .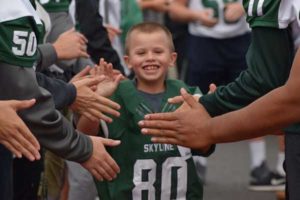 On October 1st, over 50 mentors, buddies and family members took to the Skyline Football field to participate in a fun filled afternoon of football camp. The Skyline Football team, guided by the wonderful Mat Taylor, provided a safe and inclusive event that allowed everyone to participate and have a great time. An extra special thanks goes to Angie Ahlmeyer and the Skyline Gridiron Club. We can't wait for next year!