---
 AFK Carnival
Athletes for Kids mentors, buddies, siblings and community youth enjoyed
an inclusive community event at the AFK Indoor Carnival on March 11, 2017.
---
2nd Annual Bowling With Buddies!
Thank you to everyone that came out on Sunday for our 2nd Annual
Bowling with Buddies event. We had an absolute blast!
Highlights from the event can be viewed on Facebook here
---
AFK featured on KING 5 News!
We are grateful to Ryan Takeo and KING 5 News for bringing awareness to our impactful mentoring program. We were featured twice in one week! The first video features Skyline mentor, Ben Wolters and his buddy Brayden.
The second video was from the first annual Athletes for Kids and Skyline Football Camp. Over 50 children were in attendance and had the times of their lives. Thank you to Mat Taylor and the entire Skyline Football program for making this event possible.
September 26, 2016
October 1, 2016
---
First Annual Athletes for Kids and Skyline Football Camp
 .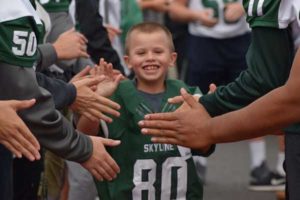 On October 1st, over 50 mentors, buddies and family members took to the Skyline Football field to participate in a fun filled afternoon of football camp. The Skyline Football team, guided by the wonderful Mat Taylor, provided a safe and inclusive event that allowed everyone to participate and have a great time. An extra special thanks goes to Angie Ahlmeyer and the Skyline Gridiron Club. We can't wait for next year!