Our AFK Mentors & Buddies share the gift of acceptance, friendship and kindness. Every day. As a member of Team 365, you can help support their relationships.
Every day. Mentors & Buddies build their extraordinary relationships one day at a time, and their cumulative effect is powerful. Our new Team 365 giving level is the same way: a small investment every day adds up to something powerful.
Please join team 365 and help support the programs, training, activities that build mentor and buddy relationships. Every day.
 "As a mentor I have learned how to be more patient and to adapt to new situations. I have learned new ways to communicate and have become a better friend"
"Being a mentor has given me an opportunity to have an impact on someone's life and I've gained a lasting friendship for life"
 "My son's confidence and happiness has grown more than we could possibly have hoped since meeting with Ty"
100% of mentors reported that as a result of their service, they will be more likely to help others in the future
"Being able to visibly see making a difference in a kids life can't be imagined unless you actually do it. It is one of the most fulfilling experiences"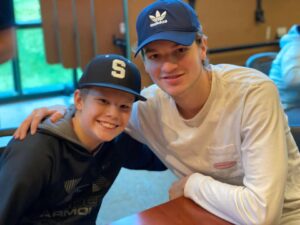 You choose how to donate $365:
monthly, quarterly, bi-yearly or yearly