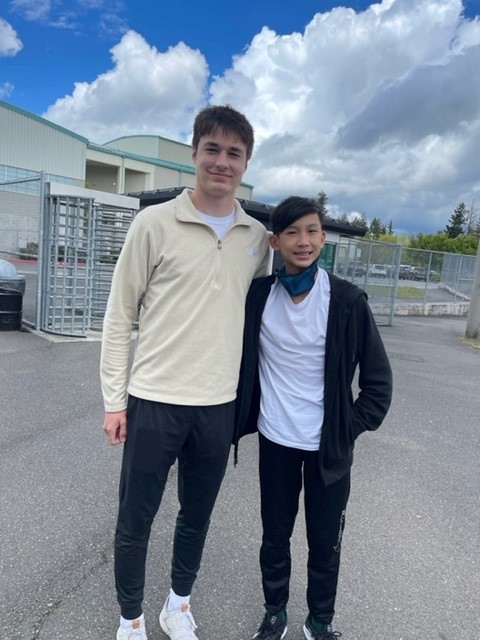 I have been matched with my buddy for over a year now. It's been amazing to be able to see the growth in his social skills and abilities. My buddy is always eager to meet, has a smile on his face, and is willing to try new things. Going into the match I knew we had a lot in common, but I had no idea how well we would get along. The bond I have formed with him over the past months is more than just a mentorship. It's a friendship, with both of us being able to open up to the other. I will always be proud and grateful of my buddy, as I know that no matter what he experiences in life, he will always hold his head high. I look forward to each and every meeting, event, and game as my buddy and I are both able to grow as people. One of our favorite activities to do is just a light walk around the neighborhood to chat about what's happened over the past week. Thank you to my buddy, who has provided me with lessons, skills, and laughter. Thank you to my buddy family, who was been nothing but welcoming and accepting. I look forward to the memories we'll make in the year to come, and whatever happens after that, as I know that my buddy is capable of anything. 
Buddy Parent
Spencer has been a great mentor to our son. He is a good listener, responsible, and makes himself available to consistently spend time with our son. Spencer is someone our son looks up to, and they share the commonality of both playing lacrosse and being student athletes.  Spencer has been there to support him in important life events like attending his games, being there during his baptism, and remembering his birthday every year. In our son's own words: "We do fun things together all the time and hang out every weekend. Spencer has just been such a great friend and I'm glad to have met him."
We have also enjoyed being part of Spencer's life by watching his games and cheering him on as well! Even our family friends will text us when they see Spencer playing and tell us how well he played in a game, and we are happy when he excels. The connection our son has with Spencer is special, and we are so thankful to AFK for making this connection.