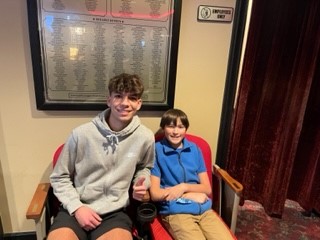 I joined Athletes for Kids right before my junior year and I have been meeting with my buddy well over a year now. I always look forward to our weekly visits at his house, where we usually play board games, walk/bike through his neighborhood or just talk about what is going on in our lives. Through my relationship with my buddy, I have learned a lot about the responsibility of being a reliable role model. He has taught me to be a good listener and we both push each other to try new things. My favorite memory with my buddy so far is going to the 2021 Skyline football minicamp because it was near the beginning of our friendship and we had a great time getting to know one another. I am very grateful to AFK for the opportunity to be a mentor to my buddy and I look forward to making more memories with him before I graduate.
Ever since Marcelo has started mentoring me, he has become one of my best friends.  I know I can share information and my secrets whenever he comes over. Marcelo is one of my best friends and I'll cherish this time forever.
It has been wonderful seeing our son develop a friendship that allows him to explore his interests and try new things through sponsored activities in a safe and nurturing context.
Marcelo's friendship has increased our son's self-confidence. He has gone outside of his comfort zone to attend a high school football game, try the sponsored sports clinics, and learned basketball skills.  And that's all on top of learning how to be more comfortable in his own skin and having a conversation with someone and being himself. Marcelo accepts our son for who he is and listens to him.  He feels seen and heard and looks forward to each meeting. We are so excited to see our son continue to develop such a healthy friendship with his mentor that enriches his life.